Recommended Global Pharmaceutical Sciences Conferences
Asia Pacific & Middle East
Advanced Pharmaceutics 2019
About the Conference
Conference series is hosting the Advanced Pharmaceutics and Clinical Research 2019 (Advance Pharmaceutics 2019) during Nov 03-04, 2019 at Paris, France.
Advanced Pharmaceutics and clinical research Congress composed of well-organized scientific sessions, plenary sessions, Oral presentations, Poster presentations, one to one meetings, networking sessions, e-poster presentation, Young Researcher Forums (YRFs), B2B meetings, International workshops, Symposiums, Industrial sessions, Exhibitor presentations etc.
Conference Series Organizes 3000+ Global Events Every Year across USA, Europe & Asia with support from 1000 more scientific societies and Publishes 700+ Open access journals which contains over 100000 eminent personalities, reputed scientists as editorial board and organizing committee members. The conference series website will provide you list and details about the conferences organize worldwide.
Why to Attend?
Advance Pharmaceutics 2019 conference brings together experts, leading researchers, scholars, scientists, professors from fields of Pharmacy and clinical research, s and other related areas to interact and exchange ideas about the state of the art technologies related to Pharmaceutics and Clinical research. The conference will also provide an insightful understanding to the issues arising out of the Advance Pharmaceutics and the future concern and remedies from that. Advance Pharmaceutics 2019 provides an opportunity to interact with eminent Scientists, researchers, Business Leaders, experts from all over the world.
Highlights of the Conference:
Meet the Health care experts from 25+ countries around the globe
Meet your peers and evaluate your research in front of experts
World-class platform to Exhibit your products and services
More than 25 presentations from Industry and Academia leader
One- to-one interaction, B2B, and B2A etc.
Well organized Scientific Program with 5+ hours of Networking sessions
Interactive panel discussions and Q&A sessions
Best Poster Awards, Young Research Forums
Who should attend?
Business Development Managers
Chief Scientific Officers
R&D Researchers from Biosimilar and Biologics Industries
Professors, Associate Professors, Assistant Professors
PhD Scholars
Patent Attorneys
Intellectual Property Attorneys
Investment Analysts
Association, Association presidents and professionals
Noble laureates in Health Care and Medicine
Bio instruments Professionals
Bio-informatics Professionals
Software development companies
Research Institutes and members
Supply Chain companies
Manufacturing Companies
CRO and DATA management Companies
Training Institutes
Business Entrepreneurs Directors/Senior
Directors/Executive Directors and Vice Presidents/Senior
Vice Presidents/Executive
Vice Presidents and Heads/Leaders
Clinical Research Sites
Pharma/Biotech and Medical Device industries
Hospitals, Associations
Clinical research institutes
Societies
Medical Directors
Principal Investigators,
Methodologists and other clinical research professionals along with Academicians
University Faculties like Directors, Senior Professors/Assistant Professors/ Associate Professor, Research Scholars, scientists who are related to clinical and medical research
Abstract Eligibility Criteria
AUTHOR ELIGIBILITY:
Individuals may submit up to two regular abstracts as the first author.
Individuals may submit an unlimited number of Trials in Progress abstracts.
Individuals may serve as a co-author on an unlimited number of abstracts.
ABSTRACT ELIGIBILITY
All types of Pharmaceutical research and clinical research are eligible for submission.
Abstracts should address scientific questions, detail clinical observations, or contain primary scientific data.
Data from the long-term follow-up of previously presented clinical trials may be submitted only if significant new information can be shown.
Interim analysis of a prospective randomized clinical trial will be considered if it is performed as planned in the original protocol and is statistically valid.
Abstracts of clinically-related subjects should be combined into a single abstract.
Note: Submission of multiple abstracts on a single study may result in the rejection of one or more abstracts.
Submission Requirements
Provide your full name, academic degree(s), institution, address, and email address and recent photograph. You will receive all future correspondence from us regarding the status of your abstract.

The selected abstracts will be published in Conference Proceedings.
Important Dates:
Early Bird Discount Registration Offer: On/Before May 15, 2019
Early Bird Abstract Submission Date: On/Before August 20, 2019
Abstract Submission Deadline: Nov 03, 2019
Speaker Presentations Sessions and Time limits:
Keynote Speech 40-45 Minutes,
Workshop/Symposium 60 Minutes
Plenary Speech 20-25 Minutes,
Poster Presentation 10-15 Minutes
Major Sessions
Pharmaceutical Sciences
Bio Pharmaceuticals
Radiopharmaceuticals
Pharmaceutical dosage forms
Pharmaceutical Formulations
Pharmaceutical Packaging
Pharmacogenomics
Pharmaceutical Preformulation Studies
Pharmaceutical Research and Development
Clinical Research & Clinical Trials
Clinical Data Management
Medical Devices Clinical Research
Microbiology Clinical Research
Oncology Clinical Research
Stem Cell and Genetic Clinical Research
Pharmaceutics is the discipline of pharmacy that deals with the process of turning a new chemical entity or old drugs into a medication to be used safely and effectively by patients. It is also called the science of dosage form design. There are many chemicals with pharmacological properties, but need special measures to help them achieve therapeutically relevant amounts at their sites of action. Pharmaceutics deals with the formulation of a pure drug substance into a dosage form
The pharmaceutical sciences combine a broad range of scientific disciplines that are critical to the discovery and development of new drugs and therapies. Pharmaceutical sciences can be broadly classified into the following main categories, with many specialized fields within each category.
Pharmaceutical Sciences is a dynamic and interdisciplinary field that aims to integrate fundamental principles of physical and organic chemistry, engineering, biochemistry, and biology to understand how to optimize delivery of drugs to the body and translate this integrated understanding into new and improved therapies against human disease.
Biopharmaceuticals are medical drugs produced using biotechnology. They are proteins (including antibodies) nucleic acids (DNA, RNA or antisense oligonucleotides) used for therapeutic or in vivo diagnostic purposes, and are produced by means other than direct extraction from a native biological source. The large majority of biopharmaceutical products are pharmaceuticals that are derived from life forms. Small molecule drugs are not typically regarded as biopharmaceutical in nature by the industry. However members of the press and the business and financial community often extend the definition to include pharmaceuticals not created through biotechnology.
Biopharmaceuticals varies between groups and entities, with different terms referring to different subsets of therapeutics within the general biopharmaceutical category. Some regulatory agencies use the terms biological medicinal products or therapeutic biological product to refer specifically to engineered macromolecular products like protein- and nucleic acid-based drugs, distinguishing them from products like blood, blood components, or vaccines, which are usually extracted directly from a biological source. Specialty drugs, a recent classification of pharmaceuticals, are high-cost drugs that are often biologics.
Radiopharmaceutical is a drug that can be used either for diagnostic or therapeutic purposes. It is composed of a radioisotope bond to an organic molecule. The organic molecule conveys the radioisotope to specific organs, tissues or cells. The radioisotope is selected for its properties. Radioisotopes emitting penetrating gamma rays are used for diagnostic (imaging) where the radiation has to escape the body before being detected by a specific device. Typically, the radiation emitted by isotope used for imaging vanishes completely after 1 day through radioactive decay and normal body excretion.
Radioisotopes emitting short range particles (alpha or beta) are used for therapy due to their power to lose all their energy over a very short distance, therefore causing a lot of local damage. This property is used for therapeutic purposes cancer cells destruction, pain treatment in palliative care for bone cancer or arthritis. Such isotopes stay longer in the body than imaging ones, this is intentional in order to increase treatment efficiency, but this remains limited to several days.
Manufacturing radiolabelled molecules requires pharmaceutical industry expertise within the safety constraints of a nuclear facility. Therefore, such a facility must comply with the Good Manufacturing Practice of the pharmaceutical industry while at the same time adhering to the As Low, AS Reasonably, and Achievable principle of the nuclear industry, aimed at protecting the workers, the environment and the patient. The largest facilities for producing radiopharmaceuticals are located in Europe and North America.
Dosage forms are pharmaceutical drug products in the form in which they are marketed for use, with a specific mixture of active ingredients and inactive components, excipients, in a particular configuration such as a capsule shell.
Oral
Pill that is tablet or capsule syrups
Specialty tablet like buccal, sub-lingual, or orally-disintegrating
Thin film
Liquid solution or suspension
Powder or liquid or solid crystals
Natural or herbal plant, seed, or food of sorts
Pastes
Ophthalmic
Liquid solution
Inhalational
Aerosol
Inhaler
Smoking
Vaporizer
Parenteral
Intradermal (ID)
Subcutaneous (SC)
Intraosseous (IO)
Intraperitoneal (IP)
Intravenous (IV)
Topical
Cream, gel, liniment or balm, lotion, or ointment, etc.
Eye drops
Skin patch (transdermal)
Vaginal rings
Dermal patch
Powder/Talc
Suppository
Vaginal
rectal
Urethral suppositories
Nasal suppositories
Pharmaceutical formulation, in pharmaceutics, is the process in which different chemical substances, including the active drug, are combined to produce a final medicinal product.
Internal formulations
Tablet : A tablet is usually a compressed preparation that contains:
5-10% of the drug (active substance);
80% of fillers, disintegrants, lubricants, glidants, and binders; and
10% of compounds which ensure easy disintegration, disaggregation, and dissolution of the tablet in the stomach or the intestine.
Capsule: A capsule is a gelatinous envelope enclosing the active substance. Capsules can be designed to remain intact for some hours after ingestion in order to delay absorption. They may also contain a mixture of slow and fast release particles to produce rapid and sustained absorption in the same dose.
Sustained release: There are a number of methods by which tablets and capsules can be modified in order to allow for sustained release of the active compound as it moves through the digestive tract. One of the most common methods is to embed the active ingredient in an insoluble porous matrix, such that the dissolving drug must make its way out of the matrix before it can be absorbed.
Parenteral formulations
These are also called injectable formulations and are used with intravenous, subcutaneous, intramuscular, and intra-articular administration.
Liquids: Liquid drugs are stored in vials, IV bags, ampoules, cartridges, and prefilled syringes.
As with solid formulations, liquid formulations combine the drug product with a variety of compounds to ensure a stable active medication following storage. These include solubilizers, stabilizers, buffers, tonicity modifiers, bulking agents, viscosity enhancers/reducers, surfactants, chelating agents, and adjuvants.
Lyophilized : Lyophilized drugs are stored in vials, cartridges, dual chamber syringes, and prefilled mixing systems.
Lyophilization, or freeze drying, is a process that removes water from a liquid drug creating a solid powder, or cake. The lyophilized product is stable for extended periods of time and could allow storage at higher temperatures. In protein formulations, stabilizers are added to replace the water and preserve the structure of the molecule.
Topical formulations
Cutaneous: Topical formulation include
Cream - Emulsion of oil and water in approximately equal proportions. Penetrates stratum corneum outer layers of skin well.
Ointment - Combines oil (80%) and water (20%). Effective barrier against moisture loss.
Gel - Liquefies upon contact with the skin.
Paste - Combines three agents - oil, water, and powder; an ointment in which a powder is suspended.
Powder - A finely subdivided solid substance.
Pharmaceutical packaging is the packages and the packaging processes for pharmaceutical preparations. It involves all of the operations from production through drug distribution channels to the end consumer.
1. Primary Packaging: This is the first packaging envelope which is in touch with the dosage form or equipment. The packaging needs to be such that there is no interaction with the drug and will provide proper containment of pharmaceuticals. E.g. Blister packages, Strip packages, etc.
2. Secondary Packaging: This is consecutive covering or package which stores pharmaceuticals packages in it for their grouping. E.g. Cartons, boxes, etc.
3. Tertiary packaging: This is to provide bulk handling and shipping of pharmaceuticals from one place to another. E.g. Containers, barrels, etc.
Blister packs
Formed solid unit doses of pharmaceuticals (capsules, suppositories, tablets, etc.) are commonly packed in blister packs. In Europe about 85% of solid unit doses are packed in blister packs with only about 20% in North America. Blister packs are pre-formed plastic/paper/foil packaging used for formed solid drugs. The primary component of a blister pack is a cavity or pocket made from a thermoformed plastic. This usually has a backing of paperboard or a lidding seal of aluminum foil or plastic film. Blister packs are useful for protecting drugs against external factors, such as humidity and contamination for extended periods of time. Blister packing machinery is readily available and is suited to validation processes.
Bottles
Bottles are commonly used for liquid pharmaceuticals as well as formed tablets and capsules. Glass is most common for liquids because it is inert and has excellent barrier properties. Various types of plastic bottles are used both by drug producers as well as by pharmacists in a pharmacy. Prescription bottles have been around since the 19th century. Throughout the 19th and 20th centuries, prescription medication bottles were called medicinal bottles. There are many styles and shapes of prescription bottles. Prescription bottles come in several different colors, the most common of which being orange or light brown due to its ability to prevent ultraviolet light from degrading the potentially photosensitive contents through photochemical reactions.
Pharmacogenomics deals with the influence of acquired and inherited genetic variation on drug response in patients by correlating gene expression or single-nucleotide polymorphisms with pharmacokinetics and pharmacodynamics. Pharmacogenomics aims to develop rational means to optimize drug therapy, with respect to the patients' genotype, to ensure maximum efficiency with minimal adverse effects.
Drug-metabolizing enzymes
Cytochrome P450: The most prevalent drug-metabolizing enzymes (DME) are the Cytochrome P450 (CYP) enzymes. The term Cytochrome P450 was coined by Omura and Sato in 1962 to describe the membrane-bound, heme-containing protein characterized by 450 nm spectral peak when complexed with carbon monoxide. The human CYP family consists of 57 genes, with 18 families and 44 subfamilies.
CYP2D6: It is also known as debrisoquine hydroxylase, CYP2D6 is the most well-known and extensively studied CYP gene. It is a gene of great interest also due to its highly polymorphic nature, and involvement in a high number of medication metabolisms.
CYP2C19: Discovered in the early 1980s, CYP2C19 is the second most extensively studied and well understood gene in pharmacogenomics. Over 28 genetic variants have been identified for CYP2C19, of which affects the metabolism of several classes of drugs, such as antidepressants and proton pump inhibitors.
CYP2C9: CYP2C9 constitutes the majority of the CYP2C subfamily, representing approximately 20% of the liver content. It is involved in the metabolism of approximately 10% of all drugs, which include medications with narrow therapeutic windows such as warfarin and tolbutamide.
CYP3A4 and CYP3A5: The CYP3A family is the most abundantly found in the liver, with CYP3A4 accounting for 29% of the liver content. These enzymes also cover between 40-50% of the current prescription drugs, with the CYP3A4accounting for 40-45% of these medications.
VKORC1: The vitamin K epoxide reductase complex subunit 1 (VKORC1) is responsible for the pharmacodynamics of warfarin. VKORC1 along with CYP2C9 are useful for identifying the risk of bleeding during warfarin administration. Warfarin works by inhibiting VKOR, which is encoded by the VKORC1 gene. Individuals with polymorphism in this have an affected response to warfarin treatment.
TPMT: Thiopurine methyltransferase (TPMT) catalyzes the S-methylation of thiopurines, thereby regulating the balance between cytotoxic thioguanine nucleotide and inactive metabolites in hematopoietic cells. TPMT is highly involved in 6-MP metabolism and TMPT activity and TPMT genotype is known to affect the risk of toxicity.
Preformulation was improvement in analytical methods that stimulate the first programs that might bear the name "Preformulation". The overall objective of preformulation testing is to generate information useful to the formulator in developing stable and bioavailable dosage forms which can be mass produced. During the early development of a new drug substance, the synthetic chemist, alone or in co-operation with specialists in other disciplines including preformulation, may record some data which can be appropriately considered as Preformulation data.
Preformulation also includes preliminary investigations and molecular optimization by the drug should be tested to determine the magnitude of each suspected problem area, if a deficiency is detected, a molecular modification should be done. To overcome this deficiency molecular modification is done be salts, prodrugs, solvates, polymorphs or even new analogues. The dissolution rate of a salt form of a drug is generally quite different from that of the parent compound.
Physicochemical parameters:
Organoleptic properties:
Bulk characterization studies:
Crystallinity and polymorphism
Hygroscopicity
Fine particle characterization
Bulk density
Compression
Solubility analysis:
Intrinsic solubility determination
PKa determination
Partition coefficient
Dissolution studies
Stability analysis:
In toxicology formulations
Solution stability
Solid state stability
Pharmaceutical research and development spending while they are expected to grow at a compounded annual growth rate (CAGR) of 2.8% through 2022, experts and stakeholders are seeing a downward trend in its return on investment (ROI). Pharmaceutical companies are under increasing pressure to either improve the success rates of their research and development or reduce their cost of failure, which a breakthrough typically would cover. The pharma research and development process yields an average success rate of 4.9% from first toxicity dose to market approval. However, experts are questioning whether drug approvals had already reached its peak in 2015 and will continue to decline following the lower number FDA-approved drugs in 2016. With a bleak outlook on improving success rates for pharma research and development , more and more pharmaceutical companies are reducing their costs of failures through collaboration.
Since current internal research and development processes are losing financial viability due to lower success rates, increasing collaboration is the next stage in the evolution of pharmaceuticalresearch and development. Pharmaceutical companies are forming public and private consortia with their peers and competitors, not only to share in the costs of failure, but also to try and improve success rates and get new drugs to patients faster. Pharmaceutical companies also form hubs and create collaborative networks of suppliers and other pharmaceutical companies. This setup allows them to focus on their core expertise such as clinical trial research, execution, and medicinal chemistry.
Discovery and Development
Preclinical Research
Clinical Research
Clinical trial design
Investigative New Drug (IND) Process
FDA Approval
Clinical research phase studies.
FDA Assistance
The Data Challenges of Pharmaceutical Research, Development, and Collaboration
Clinical Data Management: A Proven Solution for Pharmaceutical R&D Data Challenges
Clinical research is the study of health and illness in people. It is the way we learn how to prevent, diagnose and treat illness. Clinical research describes many different elements of scientific investigation. Simply put, it involves human participants and helps translate basic research (done in labs) into new treatments and information to benefit patients. Clinical trials as well as research in epidemiology, physiology and pathophysiology, health services, education, outcomes and mental health can all fall under the Clinical research umbrella.
Clinical trial is a type of Clinical research study. A clinical trial is an experiment designed to answer specific questions about possible new treatments or new ways of using existing (known) treatments. Clinical trials are done to determine whether new drugs or treatments are safe and effective. Clinical trial are part of a long, careful process which may take many years to complete. First, doctors study a new treatment in the lab. Then they often study the treatment in animals. If a new treatment shows promise, doctors then test the treatment in people via a clinical trial.
Different types of Clinical research are used depending on what the researchers are studying. Below are descriptions of some different kinds of clinical research.
Treatment Research generally involves an intervention such as medication, psychotherapy, new devices, or new approaches to surgery or radiation therapy.
Prevention Research looks for better ways to prevent disorders from developing or returning. Different kinds of prevention research may study medicines, vitamins, vaccines, minerals, or lifestyle changes.
Diagnostic Research refers to the practice of looking for better ways to identify a particular disorder or condition.
Screening Research aims to find the best ways to detect certain disorders or health conditions.
Quality of Life Research explores ways to improve comfort and the quality of life for individuals with a chronic illness.
Clinical Data Management (CDM) is an important department in pharmaceutical and contract research organizations that usually employs more people than any other department. This department is involved in overall collection and handling of clinical trial data. Data Management teams develop tools for collection of data at clinical trial sites, quality check the collected data for errors and raise flags in case any discrepancy is identified. They develop tools for verification, validation and quality control of the data gathered during the clinical trial. Clinical data managers ensure the integrity and confidentiality of collected data is maintained at all times. Various security controls are incorporated into the system to ensure that the data extracted from the clinical trials is secure and not prone to any open threats. Careers in Clinical Data Management are very promising. This field offers a wide scope of career options. Common positions available in Data Management departments are:
Clinical Data Manager
Bio-statistician
Clinical Data Coordinator
Clinical Data Entry Operator
Clinical Data Reviewer
Software Developers and Programmers with expertise in SAS, SPSS, Oracle Clinical etc.
In the context of medical devices, a clinical trial or a clinical investigation can be defined as any systematic investigation or study on one or more human subjects undertaken to assess the safety or performance of a medical device. Clinical trials for medical devices are predominantly conducted to identify the safety and performance of these devices in the treatment, prevention or diagnosis of disease. More than double the number of investigational device exemptions (IDEs) were submitted in 2017 compared to 2014, a sign that critical clinical research of innovative new medical devices is returning to the United States, according to the Food and Drug Administration (FDA). Medical device clinical trials are different from drug trials in that only patients with the condition which the device is designed to treat are involved. They are traditionally comprised of three different types of studies.
Exploratory or Feasibility Study: Exploratory studies (also known as feasibility studies) are conducted in the early stages of device development. They are used to establish preliminary safety and effectiveness of the device and design the next stage of the trial, the pivotal study.
Pivotal Study: Pivotal studies are performed to demonstrate the device is safe and effective for a specific use within a defined patient population. The results of a pivotal study are used to gain regulatory approval to market the device.
Post market Study: Run either as a condition of approval to meet a business objective, post-market studies are similar to Phase IV of clinical drug trials since the goal is to better understand long-term effectiveness of the device and potential adverse events associated with the use of the device.
Microbiology research is far less regular than understudy endeavors in the other significant regions of science. This is incompletely because of the simplicity, in view of size, with which the "large scale" territories have frameworks to work with; therefore extends are effectively conceptualized and performed utilizing natural abilities including the noticeable world. For the most part one timetables an assortment of customary classroom lab practices in the "full scale" disciplines which require no significant bits of gear nor extensive amounts of various materials; at that point understudies regularly utilize these labs to create thoughts for inquire about activities suited to their loving .
Microbiology, by differentiate, by and large requires an assortment of preliminary materials, huge numbers of which should be sterile (culture media, microorganisms or other microbial societies, and gear: autoclaves, hatcheries, oil drenching magnifying instruments) keeping in mind the end goal to achieve any showing objective in this Clinical research facility territory. Hence, understudies in numerous natural lab courses never have the chance to work with organisms on account of these specialized prerequisites. Hence, they don't pick up the hands-on encounter prompting the acknowledgment that microorganisms, organisms, yeast, and blue green growth have the attributes of life and are frameworks accessible to outside investigations and research.
The science of clinical trials in oncology evolved to include phase I dose‐finding trials, phase II studies to establish efficacy in a single tumor type, phase III trials comparing standards of care with potential advances in care, and phase IV studies to extend safety and activity data in a post‐marketing scenario. As a consequence, we can expect higher cure rates in locally confined cancers and in some metastatic cancers. Investigators have substantially extended median overall survival statistics for trial subjects and patients treated off of trials who have had advanced stages of malignant diseases. An example of this extension of median overall survival in the setting of advanced, incurable disease comes from patients treated on clinical trials for advanced colorectal cancer.
In 50 years of clinical trials, median survivals have improved from 12 months in the 5‐Fluorouracil era of the 1980s to greater than 30 months in the current era where targeted therapies are combined with chemotherapy strategies across multiple lines of treatment. Oncology is a branch of prescription that arrangements with Tumours. A therapeutic expert who hones oncology is an oncologist. Integrative oncology deals with the brain, body, and soul. Modalities of development, touch, nourishment, and care are utilized inside routine disease care to address and enhance indications and personal satisfaction. That is the reason numerous experts, including medicinal specialists, have grasped the quickly extending field of integrative oncology, which melds the best of customary and option medications.
Immuno-oncology treatments enact our invulnerable framework, making it ready to perceive growth cells and annihilate them. Since tumour cells are altogether different from ordinary cells in the body, the resistant framework assaults them when it can remember them. Neuro-oncology assesses and treats individuals with essential and optional tumours of the cerebrum, spinal line, and the layers encompassing the mind and spinal rope (meninges). Oncologic Emergencies, as the term infers, are difficulties coming about because of a growth itself, a paraneoplastic disorder, or from treatment of malignancy that require prompt consideration and inversion, if conceivable. Inpatient treatment is an absolute necessity, and frequently these conditions require intercession in an escalated mind setting.
Gene therapy is a novel therapeutic branch of modern medicine. Its emergence is a direct consequence of the revolution heralded by the introduction of recombinant DNA methodology in the 1970s. Gene therapy is still highly experimental, but has the potential to become an important treatment regimen. In principle, it allows the transfer of genetic information into patient tissues and organs. Consequently, diseased genes can be eliminated or their normal functions rescued. Furthermore, the procedure allows the addition of new functions to cells, such as the production of immune system mediator proteins that help to combat cancer and other diseases.
Originally, monogenic inherited diseases, such as cystic fibrosis, were considered primary targets for gene therapy. For instance, in pioneering studies on the correction of adenosine deaminase deficiency, a lymphocyte-associated severe combined immunodeficiency (SCID), was attempted. Stem cells can be classified as embryonic or adult, depending on their tissue of origin. The role of adult stem cells is to sustain an established repertoire of mature cell types in essentially steady-state numbers over the lifetime of the organism. Although adult tissues with a high turnover rate, such as blood, skin, and intestinal epithelium, are maintained by tissue-specific stem cells, the stem cells themselves rarely divide.
However, in certain situations, such as during tissue repair after injury or following transplantation, stem celldivisions may become more frequent. The prototypic example of adult stem cells, the hematopoietic stem cell, has already been demonstrated to be of utility in gene therapy. Although they are relatively rare in the human body, these cells can be readily isolated from bone marrow or after mobilization into peripheral blood. Specific surface markers allow the identification and enrichment of hematopoietic stem cells from a mixed population of bone marrow or peripheral blood cells.
Market Analysis
When we consider Active Pharmaceutical Ingredient API, the global Active Pharmaceutical Ingredient (API) market size was valued at USD 158.15 billion in 2018 and is estimated to expand at a CAGR of 6.8% over the forecast years. Advancements in API manufacturing and growth of biopharmaceutical sector are expected to be the key factors driving the market. In addition, increasing geriatric population across the globe is also anticipated to contribute to the market growth.
Increasing prevalence of infectious diseases and Hospital-Acquired Infections (HAIs) are expected to fuel the market growth during the forecast period. Furthermore, rising number of cases of cardiovascular, neurological, and genetic disorders is expected to augment the growth further. Cardiovascular Diseases (CVDs) are the most prevalent cause of death across the globe.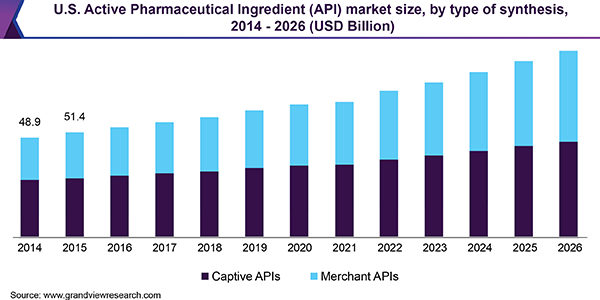 According to the Canadian Patient Safety Institute (CPSI), annually around 8,000 patients in Canada die due to HAIs and approximately 220,000 patients are infected with such disease. Targeted therapy is gaining popularity as it only aims at cancerous cells. The characteristics, such as minimum effect of the drug on noncancerous cells, and effectiveness possessed by these anti-cancerous drugs are the factors contributing to the market growth.
API production requires huge capital amount as the process needs extremely systematic protocols. Thus, pharmaceutical companies can actually benefit from outsourcing the API production, as it eliminates the need for labor force and installing expensive manufacturing units. Strategic outsourcing allows companies to focus on their core competencies, ultimately resulting in an increased productivity.
Based on type of synthesis, the market is segmented into biotech type and synthetic type. The biotech type is further classified into monoclonal antibodies, recombinant proteins, and vaccines. Synthetic segment led the overall market in 2018, in terms of revenue share, owing to easy availability of raw materials and simple procedures of synthesis. Biotech molecule was expected to be the fastest-growing application segment and is expected to register a CAGR of 7.5% during the forecast years.
Based on the manufacturer type, the market is categorized into captive and merchant APIs. Captive segment held the largest share in 2018 owing to intensive capitalization of major key companies in development of high-end manufacturing facilities and availability of raw materials. Merchant API segment is expected to be the fastest-growing segment owing to factors, such as rising demand for biopharmaceuticals and high cost of in-house manufacturing of these molecules.
Based on type, the market is segmented into generic and innovative APIs. Innovative drugs segment led the overall market in 2018 due to increased R&D initiatives for novel drug development and favorable government regulations. Rising number of new entrants in this segment is also expected to propel the market growth. Generic drug segment is estimated to be the second fastest-growing segment due to factors, such as patent expiry of branded drugs and lower cost.
Based on application, the market is segmented into cardiology, oncology, CNS & neurology, and endocrinology. Cardiology segment led the overall market in 2018 owing to the increasing prevalence of target diseases worldwide. According to the WHO, CVDs, particularly heart attack and stroke, account for around 17.5 million deaths across the globe. Cardiovascular disease is one of the global, critical public health burdens, responsible for extensive R&D for APIs in the field.
Oncology is expected to be the fastest-growing segment and is driven by factors, such as increasing lifestyle changes and rising prevalence of cancer. Moreover, extensive R&D for the development of drugs specific to novel biomarkers will spur the market growth. There are numerous APIs in the market for cancer treatment, some of which include Rituximab, Bevacizumab, and Trastuzumab by Roche and Imatinib by Novartis.
North America led the market in 2018 owing to technological advancements coupled with high economic development in the region. Increasing prevalence of cancer and other lifestyle-induced diseases is encouraging the R&D activities, thereby boosting the market growth. Asia Pacific is estimated to be the fastest-growing region over the forecast period. Availability of cheap labor and lenient regulatory framework are attracting foreign companies to set up manufacturing facilities in Asia Pacific.
Some of the key companies in the market are
Teva Pharmaceutical Industries Ltd
AbbVie, Inc
Boehringer Ingelheim International GmbH
Cipla, Inc
Merck & Co., Inc
Bristol-Myers Squibb Company
Albemarle Corporation
Mylan N.V
Aurobindo Pharma
Sun Pharmaceutical Industries Ltd
Dr. Reddy's Laboratories Ltd.
To Collaborate Scientific Professionals around the World
Conference Date November 03-04, 2019
For Sponsors & Exhibitors
Supported By
All accepted abstracts will be published in respective Conference Series LLC LTD International Journals.
Abstracts will be provided with Digital Object Identifier by